Your wedding day is meant to be the best day of your life and because of this, every decision should be taken with the utmost care and deliberation. One of those decisions includes your wedding playlist. What is that special song that would perfectly capture the beautiful moment as you and your spouse take the dance floor? Here, we help you narrow your choices to some of the best wedding songs of this era.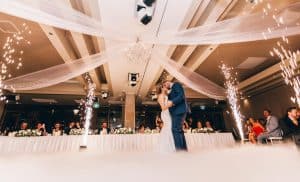 A Thousand Years by Christina Perri
The lyrics of this song is just one of the things that set it apart from many. It will go down in history as one of the most beautiful wedding songs of all time. This was further consolidated when it was added as the wedding song for the couple in the 2011 hit movie Twilight: Breaking Dawn Part 2. Christina Perri's amazing vocals set the perfect ambiance for a most romantic wedding dance of a lifetime.
John Legend proved what he is worth in this 2013 R & B hit. A declaration of love and acceptance even in the presence of imperfections. This love anthem was written for-and dedicated to-his wife Chrissy Teigen. It is definitely worth adding to your wedding playlist.
We know, Taylor Swift is most famous for her break up songs. But this time, she stuns with a beautifully penned love song. 'Lover' introduces us to Taylor Swift's mind when she isn't singing about a terrible breakup or a horrible ex. What a beautiful place it is!
It is impossible to talk about Wedding songs without mentioning Ed Sheeran. 'Perfect', 'Thinking Out Loud', and 'Shape of You' are just some of the most popular love songs Ed has given us.
'Photograph', though less popular than the others, is no less charming. It is a ballad that represents love in all forms. Very fitting for a day of celebration.
There you have it, modern-day romantic songs for your 'First Dance.' For help with a broader wedding playlist, contact us here, and let's give you the celebration of a lifetime!
We are Alaska Professional Entertainment, and we are Alaska's favorite wedding DJs and entertainers! When we play any of these songs or songs of your choice, we promise your first dance and wedding ceremony will be moments forged in your minds and hearts forever!