When planning a wedding, one of the many things you should pay attention to is your wedding entertainment. This isn't a job you can handle yourself or give just to anyone and that's why it's advised to get a professional DJ! A wedding DJ will help you manage everything music and entertainment at your event.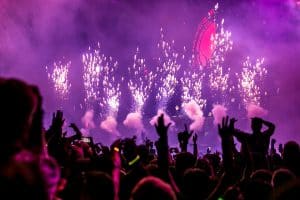 You want your wedding perfect, right? You've spent months planning and you've got the venue, the cake, the wedding dress, and other things… But what about the entertainment for the reception itself? You need to handle your entertainment the same way you'd handle other things. And one of the easiest ways to do this is to hire a wedding DJ who can handle your party professionally.
Anyone can play music; anyone can hook an iPod to some speakers. However, a DJ with experience knows his way around music, can read the crowd, and he can play the best songs at the right time. There's a level of professionalism you get from DJs that you can't get from just anyone.
A professional DJ has professional gear and equipment that deliver music differently. Having the right equipment is as important as playing the right songs. A professional has high-quality equipment that delivers crisp and clear sounds without any distortion.
A DJ does more than just playing songs. They act as MCs, make announcements, get people on the dance floor, and set the mood of your guests.
Professional Contracts and Reliability
A professional DJ will be under a contract with you. After you book a DJ, they will have you sign a contract that includes details of their services. This contract ensures you and the DJ are on the same page. It also holds the DJ accountable, which makes them reliable to work with.
Alaska Professional Entertainment is a DJ and entertainment company based in Alaska and has been creating unique services for their clients for several great years! We offer unique entertainment options, use high-quality equipment, keep the guests moving all day, and make your event a fine, lively one. Give our team experts a call on (907) 563-6553 or send a mail to [email protected].