Not every couple wants a big wedding, and that's okay. Small weddings are generally intimate and less overwhelming, making it easier for a couple to reflect their personality.
However, even for a small wedding, there are plans to make for a memorable day. If you are considering a small wedding, check out the following ideas for a perfect celebration.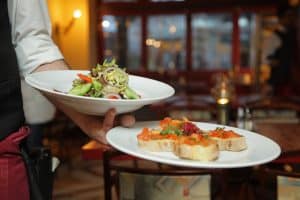 Try A Non-Traditional Wedding Venue
A fewer guest list means you can be creative with your venue choice. You could go for unpopular wedding venues to spice up your event. Venues like a library, café, amusement park, antique store, and more will make your day more fun and sentimental.
Food makes many people happy, and you'd be surprised by how a fine dining service can transform your event. The small guest count gives you the ability to get creative with food and food options.
Add extra courses to your menu to delight your guests. You can also consider having food trucks that serve food like ice cream, tacos, pizzas, popcorn, etc.
Get creative with your ceremony by mixing your personality into the wedding. You can reflect your personality through the decoration, venue choice, outfit, favors, and more.
Make Your Guests Feel Special
With a small wedding, it's easier to create an atmosphere your guests will cherish forever. Tailor your guests' experience by treating them to beautiful surprises, great food options, customized favors, etc.
You can even create a menu based on individual guest preferences or create personalized welcome bags with exciting content.
Don't Forget About Entertainment
Go over the top when it comes to entertainment. Whether it's a small wedding of 10 or a big wedding of 300, it is essential to provide guests with entertainment options. You can invest in a DJ for a music-filled day and game options to engage guests.
At Alaska Professional Events, we care about making your day as fun as possible. We provide DJ and entertainment services to help couples create a fun, memorable day.
Whether it's an intimate event or a huge one, trust APE to deliver the best services. Contact us here or reach out to us today at [email protected] to get started.