Every wedding deserves a DJ that can bring fun, entertainment, and amazing music to your one-of-a-kind event. However, to get the best services from a DJ, there are a few things you should tell them before your event. Below are some things you should discuss with your DJ.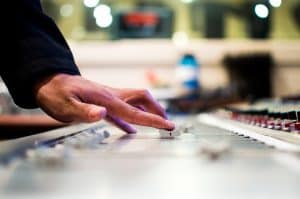 Every wedding ceremony has important moments, this includes the first dance, cake cutting, the walk down the aisle, and many more. These important moments should go with an emotional and beautiful soundtrack. If you have some songs in mind for these moments, you should discuss it with your DJ.
Many DJs often double as MCs, which means if you want or do not want a DJ to emcee that day, you need to discuss it with them. If you decide to let them emcee for you, let them know about your preferences, topics they should avoid, etc.
No one likes their name mispronounced. If your DJ is going to be announcing the couple and the wedding party, then give them the correct pronunciation and spelling of names especially if there are unpopular names.
Whilst you are making a list of songs you'd like at your party, it's also important to note the songs that are off-limit. Let your DJ know the songs you wouldn't like at your party-perhaps due to the message, preference, language, or other reasons.
If you have no problem with your guests requesting songs from the DJ, then let your DJ know. Requests are usually so cool at wedding parties because it gives the guests the chance to control the playlist and give the DJ an idea of what songs, artists, or genre the guests prefer.
Alaska Professional Entertainment is a wedding entertainment company that provides professional DJ and entertainment services. Our job is to make your day as fun and eventful as ever by bringing you awesome music using the best equipment!
We understand that every client is different so we tailor our services uniquely for different clients.
Want a fun-filled wedding party? Look no further! Click here to contact us at or call us at (907) 563-6553 or send a mail to [email protected].