From picking out decors, vendors, and the cake to many more things on your wedding checklist, you always have to include your guests when making such decisions. What will they think? Will they like the food, the music? Will they be impressed? Guests are a huge part of the wedding plans' decision making. To help you spend less time fretting about your wedding guests, we bring to you 5 things your guests don't really care about.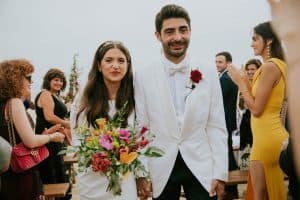 Sure, programs can be helpful but you don't need to print hundreds of copies for your guests. Trust us, your guests don't mind not having a program. However, if you feel the need for one, set up a large program at the entrance of the wedding venue for all to read.
You don't need to spend a ton of money on favors for your guests and you definitely don't need to buy what everyone else is buying. If you feel compelled to do something, you can personalize your favors, make it edible, winnable, or you can even make it a donation to a charity cause.
We hate to break it to you but wedding invitations always end up in the trash. You don't need to go the extra mile to make expensive invitations. No one is going to judge your invitations so it's best to go for an option that is affordable.
Flowers are beautiful and everyone loves them but you don't need to go over the top when it comes to floral arrangements or buying flowers. Your guests will appreciate the flowers regardless of whether you got it from a farmer's market or they are designer blooms from another corner of the world.
Specialty linen is lovely, however, it becomes quite expensive when you're hosting a lot of guests. Save yourself the stress and go for simple, functional linen that goes with your wedding decor. Your guests won't pay much heed to the material of the tablecloth, anyway
Meanwhile, regardless of what your guests are paying attention to or not, they'll always forward to having fun at your wedding! Need someone to bring fun, music, and entertainment to your event? Alaska Professional Entertainment is the company you want!
For every event, APE brings fun, music, entertainment, and liveliness. We have the years and experience needed to bring you professional wedding entertainment as no one else can. Get in touch with us today by calling us on (907) 563-6553 or send a mail to [email protected], or just contact us here.