For one reason or another, couples may decide not to hire a wedding planner. That's perfectly normal and while planning a wedding can be stressful, it's quite possible to plan it on your own. If you're putting together your wedding, perhaps to save money or just to explore your creativity, there's a wealth of things you can do yourself. The tips below will help out a bit too-if you intend to take this wedding planning route.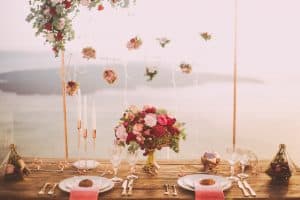 Knowing where to start will save you the stress of going in circles. The two most recommended things to start with is making a budget and a guest list.
Think Twice Before Hiring Family/Friends?
Your friends and family will have so much to say. They'll have so many ideas to share and while this isn't necessarily a bad thing, it may get tricky working with them. You want to hire people you can give instructions to.
Reuse, Recycle, Be Original
A great advantage of DIY is how you can save money. Before spending lots of money on design items, source materials from your house and thrift stores. And while you may use other weddings as a loose guide, don't copy things exactly. Add your creativity and style to the things you create.
Starting early will help you get things in order before time runs out. You can plan and making things months before the wedding. Do something every day or every week and delegate tasks to people. Don't forget to source vendors too.
Be Diligent While Choosing Vendors
The last thing you want is bad vendors, a caterer whose food is tasteless, a makeup artist who doesn't have the tone of your foundation or a DJ who plays inappropriate songs. It's your wedding and it's your money, so make sure you hire the right vendor. Have a taste of what the caterer cooks; let the makeup artist do something on your face, etc.
Whether it's a DIY wedding or you're hiring a planner, good music and entertainment are paramount on your wedding day. At Alaska Professional Entertainment, we bring excellent music and great fun to our clients' wedding event. We tailor our services based on our clients' personal tastes because we understand that no two clients are the same.
Want a fun, entertaining wedding? Contact us now at (907) 563-6553 or visit our website at https://gowithape.com/ to learn more about our amazing services.