Your budget is going to be a vital driving force behind your wedding. It's the first thing you will have to think of when planning a wedding because your budget will guide most of your wedding choices. But how do you figure out the right way to create a budget? Below are some helpful tips!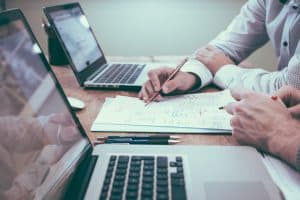 Think About the Kind of Wedding You Want
The type of wedding you want will determine your budget. Do you want a massive wedding with many guests? An intimate wedding with only close friends and family? A destination wedding? There are different kinds of wedding, you and partner should decide what you want.
Talk with Your Partner About Money
You and your partner need to have a conversation about how much you're comfortable spending on your wedding. Write down your income, how much you're willing to spend, and if you may be getting a loan.
Also, sit down with anyone else who will be happy to contribute to your wedding. Then, you will have a rough estimate of how much you can put down for the wedding.
Priorities are important. Your priorities could be food, live band, and aesthetics. Setting your wedding priorities will help you focus your money on things that matter the most and allow you to save where you can.
Once you have an idea of what you want your wedding to look like, next is to prepare a guest list. The number of guests will determine your budget. For example, your guest size will determine the kind of venue you choose, the amount of food and drinks, and many other things.
Now that you have a budget, next is to research what you need and how much it will cost. From the vendors down to the invitation cards, you need to know the estimate to allocate funds to each wedding aspect.
Does your budget match the cost of your ideal wedding? If it doesn't, adjust your plan or look for ways to source more funds.
Although a wedding is a 'once in a lifetime' event, remember, it's not about how much you spend but the joy you feel!
At Alaska Professional Entertainment, we provide quality DJ and entertainment services for wedding events in Alaska and beyond!
Want a beautiful wedding with incredible sounds and a full dance floor? Let's make your dreams come true. Contact us today or call us at (907) 563-6553!