The bride's entrance is one of the most awaited moments at wedding parties. Literally, all eyes will be on her the moment she sets foot into the venue! However, for the bride, this may be a nerve-racking and overwhelming moment. We've put together some tips to help you pull off a perfect wedding entrance!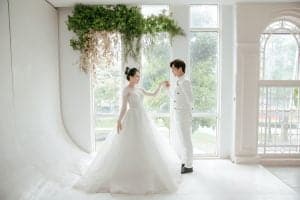 Instead of trying to walk in a poised way, all you have to do is walk normally and keep your head up with a smile.
Don't Panic If You Are Anxious
If you are anxious, try not to panic. A wedding is a massive moment, and it's normal to feel a little nervous about the many eyes on you.
Take a deep breath, savour the moment, and focus on yourself and your partner. You could also get a little encouragement from your parents, partner, or friends. You can also decide to walk down the aisle with your father or best woman to make it less intimidating.
Music is such an exciting way to create an atmosphere for a wedding entrance. There are a lot of songs that would serve the purpose. However the song you pick still boils down to your choice.
Is there a song you think should be your wedding entrance song; something that means a lot to both of you and your relationship? You can start from there!
Well-executed choreography always lights up a wedding entrance. It doesn't have to be something complex. A simple dance where you and the bridesmaids walking in will do.
Inform your girls in advance and decide what dance or moves to show off before that day. A choreography also means you won't be walking alone and for a nervous bride, you won't feel like all eyes are on you (even if they indeed are!)
At Alaska Professional Entertainment, we work with couples to make their day as fun and memorable as possible. Once you get in touch with us, we try to understand your taste and your ideas for the party. We then use the information to personalize our services for you. Want a fun wedding? Contact APE  today or send us an email here: [email protected].