If you've ever been to any wedding reception, you'll agree it's often a huge event with everyone dressed in their best clothes. There's scrumptious food and of course, entertainment!
One of the most popular forms of entertainment is music and when it comes to music, your personal taste and style are important.
There are different music styles, genres, and themes; with weddings, you have to mix things up to satisfy everyone! Below are some popular wedding music genre that would do well for your event.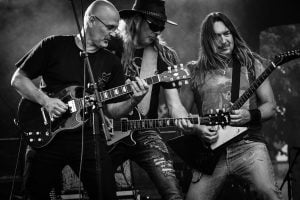 Pop and RnB always go great with any kind of wedding. They are always in style and will definitely get your guests in a romantic mood. RnB is particularly suitable for small wedding venues as it gives a very intimate feeling.
If you want music that keeps your guests on their feet all night long, then Rock and Roll it is! It's a very danceable genre that can be enjoyed by guests of all ages.
Latin music is romantic, passionate, fun, and sexy! This music genre is usually accompanied by fun dances like salsa, sambo, tango, and many more. There are amazing DJs out there who specialize in this music genre. They can use Latin tunes to make your day unique.
This is a beautiful genre that will keep guests chilled, lively, and inspired. Whether your guest list is huge or not, you can't go wrong with Jazz.
This was a very popular genre in the late '60s that still continues to live up to its hype. This genre works well with large venues and is perfect to get everyone on their feet. If you want guests jumping up and down or perhaps you prefer low tempo music for a slow dance, Motown will do the trick.
At Alaska Professional Entertainment, we keep everyone entertained with amazing and sweet music. We specialize in different music styles and genres to create an experience you and your guests will never forget!
What sets us apart is how we get to know every client so that we can understand their needs and taste to help us tailor a deserving playlist for them.
Want a fun, lively event? Contact us today or call us at (907) 563-6553 or send a mail to [email protected] to get started!