Your wedding day deserves a beautiful soundtrack from the walk down the aisle to the toast to the exit. But before you start curating a list, there are some things you need to consider and tips to follow. Below are the dos and don'ts to get your wedding music right.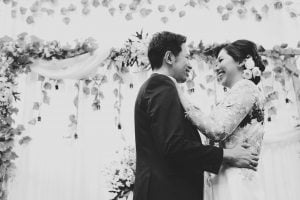 Do Choose Songs That Set the Mood
Music is powerful; it sets the mood, can stir up emotion, and pass a message. Therefore, when choosing songs, you want to pick the songs that would set the mood, stir the feeling, and pass across the right message to your wedding guests.
Do Play Music Your Guests Want to Hear
It's your wedding, so you make the rules. However, it is necessary to include your guests' preferences in your music list. While you may have a taste or genre you like, it's also important to satisfy your guests' tastes.
Is your wedding happening on a beach or in a church? You have to consider the venue of your wedding before making a wedding list. Acoustics will work well for outdoor ceremonies. But there are some songs deemed inappropriate to religious ceremonies.
Don't Pick Negative Songs
Don't pick songs that will offend you or your guests. Songs with negative/inappropriate meanings or negative memories should be off your list.
Don't Make It A Last-Minute Decision
From dresses to venues to food, there are many things to figure out for a wedding. Music is another thing you need to figure out, and you shouldn't make it a last-minute decision. Take your time to choose the right songs for your wedding.
Don't Forget to Talk to Your DJ
If you're hiring a DJ, then you want to work with them to get the best of their services. DJs are talented and know the songs that will please the crowd or befit a moment. However, if there are specific songs you want to hear or don't want to hear, then speak with them before the hour of the ceremony.
Alaska Professional Entertainment has been helping clients celebrate fun weddings for 24 years now. We work with our clients to create a memorable wedding for them, and we'll do the same for you!
Click here to contact us. Our experience and quality services make us one of the best DJs in Alaska. Call (907) 563-6553 or email [email protected] today, and let's make your celebration a fun one filled with the right songs!