Many people underestimate the importance of Entertainment at weddings. People may not remember the flowers or the taste of the cake but they will surely remember the fun they had! One of the major types of entertainment at weddings is music and we all know why. Music can change a ceremony, set the mood, evoke feelings, and get people dancing. Your wedding entertainment can also set the flow of your event and create an unforgettable experience for everyone.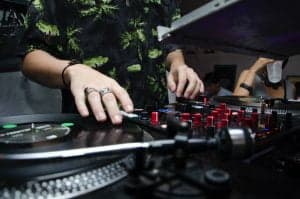 Why You Need Entertainment
While a wedding is about two people, it is important you put your guests into consideration too. The best thing is to incorporate entertainment that will entice your guests to indulge in every part of the celebration. You need to treat your guests right and the best way to do that is to get them entertained.
You can only dance at your weddings when there's music, right? Whether you're hiring a singer or a band or a DJ, it's important to have music to entertain and get people onto the dancefloor
Yea, Spotify is great and all for checking new songs and listening to music but it's not ideal for your wedding music and entertainment. Instead of trying to create a playlist yourself and planning your wedding entertainment all alone, it's better to leave it to a DJ who knows what it takes to entertain a crowd and make celebrations even more fun than they already are.
Also, professional DJs use high-grade equipment, which is all but necessary for such kind of entertainment. Hiring someone with the appropriate gear will make all the difference at your wedding.
Work with An Experienced DJ
While music can make your event, it can also break it if it's lackluster or boring. That's why it's necessary to coordinate your wedding entertainment with the help of a DJ who has great skills and experience with weddings. A good DJ understands that every celebration or event is different; he's able to read the crowd and create a Playlist or play songs that set the right mood.
Decided to work with a DJ yet? Great! Because it's important to work with one if you want your reception taken to another level. If you're looking for a professional DJ company to handle your event, contact Alaska Professional Events.
From professional DJ services to other entertainment services, we can help create the right flow that you and your guests will enjoy. Get in touch with us today by calling (907) 563-6553 or emailing us at [email protected]