Everyone knows entertainment, especially music and dance, is a huge part of any celebration. That's why many couples put in the energy to get it right, to have fantastic music playing and happy guests dancing. We have compiled some tips to get that filled-up dancefloor you want on your wedding day in this guide.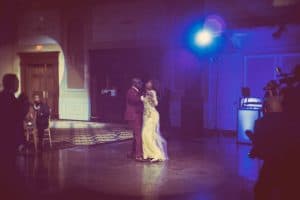 The dance floor space matters a lot. A crammed-up space will discourage guests. Ask your venue coordination for the floor dimension, let them know the number of guests you expect, and calculate if the dance floor can accommodate them.
The dance floor should have a clear path where guests can quickly locate. Also, dance floors are more interesting when it's at a spot everyone can view and enjoy at once. A dance floor placed in a corner won't get much attention. Also, it's always a good idea to have the DJ shed and the bar near the dancefloor.
Dim the light when it's time for the dance. Bright lights can make guests become too self-aware and uncomfortable. Dimmed lights, on the other hand, creates a dance setting and mood.
Creativity doesn't end with wedding décor. You can be creative with the dancefloor by introducing dancing games like musical chairs. Also, you can create creative dance floors like making an out-of-box shape or design. Think interesting light patterns, love-shaped dance floor, checkered floor, hanging decorations, monogrammed dance floor, etc.
You're the star of the wedding. If the couple is having a lovely time on the dance floor, best believe many people will join you in dancing. So, take over the dance floor to recruit more people.
A DJ, a professional one, will know exactly what to play to get guests dancing. There are various wedding moments, and DJs have a perfect understanding of the type of song that compliments the moment. Hire a DJ and let you
Book Alaska Professional Entertainment for a guaranteed filled-out dancefloor. APE is a professional and reputable DJ company that offers terrific music services for weddings.
The booking process is easy, the cost is affordable, and rest assured you will get fantastic music and a packed dance floor.
Contact us today at [email protected] for more questions or to start your booking process.